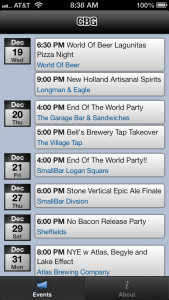 We have had a lot of people tell us that they find the events calendar of our website a great feature. While we don't post everything going on around town we do try and post things we think will be fun and worthwhile to attend.
So to make it even easier to find out what is going on we have released an iPhone application. Sorry Android users right now we don't have plans on an Android app, maybe in the future. You can download the application from the iTunes store here. Note: Even thought the screenshots are iPhone 5, that application is compatible with older models running iOS 6 or newer.
The application links directly to our website events calendar and displays events in mobile friendly, easy to navigate view. Just click on any event to show the details. From the details screen you will be able to add the event to your calendar or get driving directions. To utilize the calendar features you must allow access to your calendar. You will get a prompt when you launch the application for the first time. If you want to change this setting anytime after you first choose, you can modify this in you iPhone Settings underPrivacy -> Calendars
From the about screen you can easily access our website, facebook, and twitter pages. Just click on the corresponding section. Click the CBG Logo to go to the website.
We already have new features in the works for version 2.0 so let us know what you would like to see via our fb page or post a comment here.