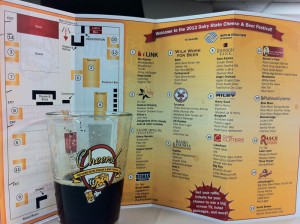 Since 2008 Kenosha has been putting on the Dairy State Cheese & Beer Festival. So we decided to head north and see what it was all about.
Held at the Brat Stop, just off the 94 expressway, the banquet hall area is a fairly large space where they were serving the brews as well as many samples of cheese. As you walk in, you're given a wristband, sampling glass, and map to begin your journey.
At one end of the banquet hall is a stage where they have a band playing a variety of music, including some Black Eyed Peas on banjo and fiddle. On either side of the building are sampling tables. You are able to find all the brewery tables easily on your corresponding map. In the center is a table selling chees and brats.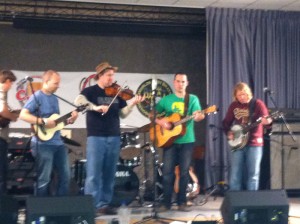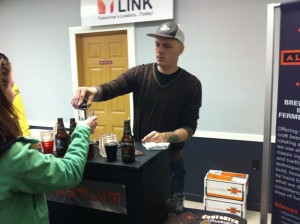 The beers were, for the most part, poured from bottles and the servers appeared to be volunteers, not representatives from the respective brewery. Many of the beers available were local to Wisconsin, which was nice to have a chance to sample many beers that we normally don't see in the Chicagoland area. One noticeably absent brewery was New Glarus. While the beers available at this event were all ones you might deem easily accessible, this festival was nonetheless a fun experience. While not geared towards hard core beer geeks, this festival is something that we believe can help spread the word of craft beer and convert some of the mass market over to drinking a better beer.
There were two specific portions of the fest that really stood out:
First, the home brew room – In this room were two local brew clubs serving some great brews. A few that really stood out were the Vanilla and Oak Stout and the Pomegranate Kriek.
Second, the cheese: The aged cheese table at the far back of the room was especially enjoyable. The line for this cheese was, on average, 20 people deep for the duration of the event. Some of the cheeses available for sampling included 5, 7, and 10-year aged cheddar, not to mention a 3-year aged swiss.
Is this festival worth travelling from Chicago to Kenosha? Well… that depends. If you'd like a chance to sample some Wisconsin beers and great Dairyland cheeses, then definitely make the journey. It's an enjoyable time with a wide variety of people hanging out, having a few brews, and just having a good time.