Mama's Sour Cherry Pie was flowing in the Crooked Stave taproom. Many of her variants weren't on yet so I dipped over to The Proper Pour next door to score a pair of bottles of Casey's Peach Fruit Stand. It's the first week of October in Denver so you know what that means? It means that all week long this is the number one beer destination on planet earth. Just a few hours after visiting their taproom,  Owner and Brewmaster Chad Yakobson made an appearance at the Beer and Food Pavilion of GABF. Here are some excerpts from that encounter. Pairings were courtesy of Denver's own, Butcher's Bistro.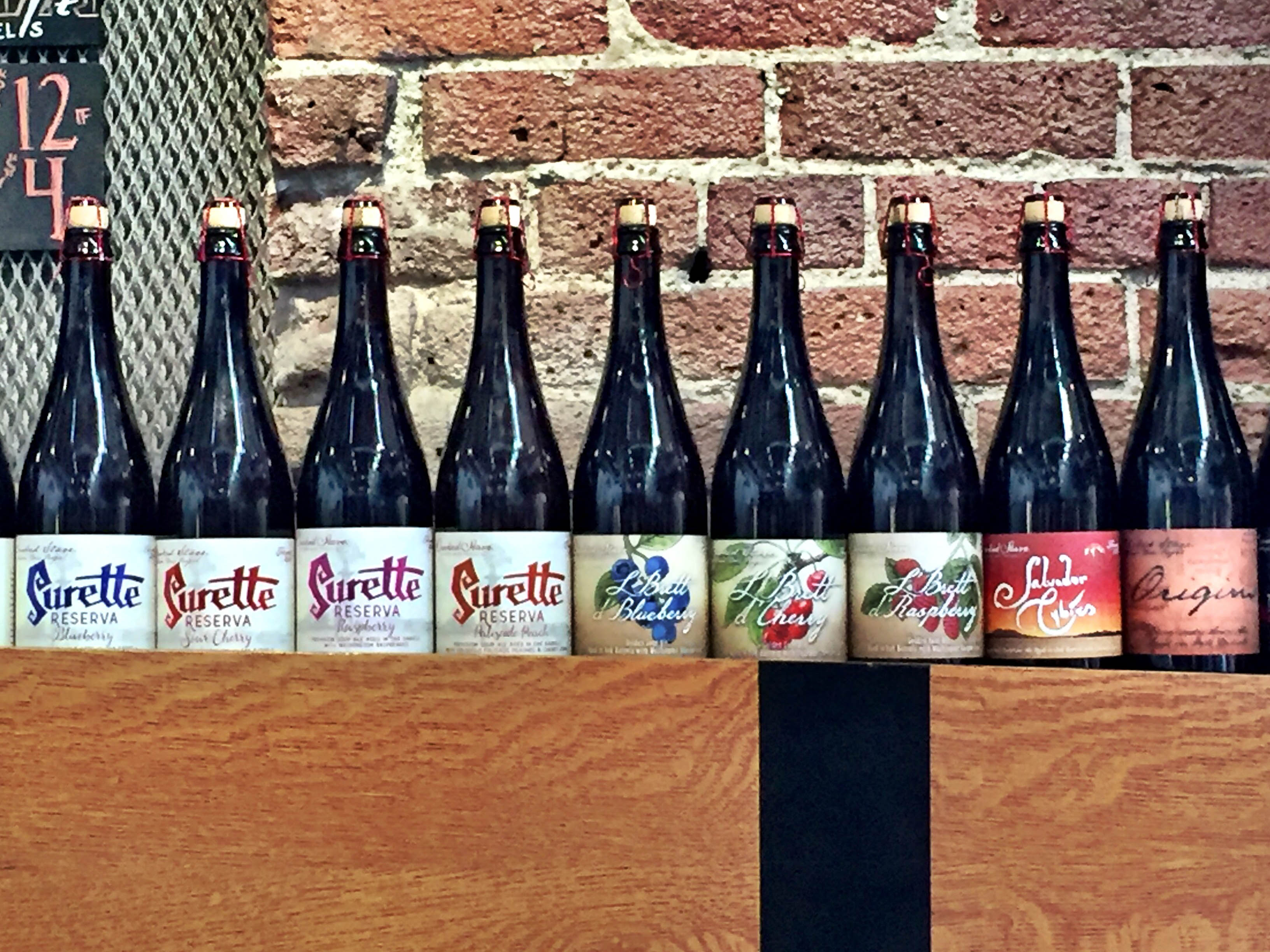 Crooked Stave Von Pilsner
An unfiltered keller pilsner with a name inspired by Denver Broncos Super Bowl 50 MVP Von Miller's tattoo that reads 'Miller Time'. The brewers were enamored by the flavor and mouthfeel of an unfiltered German style pilsner. Von Pilsner is 5%, has an assertive hoppiness with a slight hint of citrus.
Butcher's Bistro Beef Waygu Jerky
Jerky is the top seller from their butcher case. Top and bottom round beef smoked and seasoned for a day then dehydrated. The jerky is heavy with onion, paprika and soy sauce. No sugars are added, the natural sweetness all comes from the beer. It's fatty, rich, smoky, robust characteristics cut right through Von Pilsner.
Crooked Stave Surette Reserva Palisade Peach Provisions Saison
The base beer ages longer, becomes tart and takes on white wine characteristics but still hold on to those rustic, farmhouse qualities. One of the things about making acidic beer with fruit is that you're making sour on sour which is not complimentary. The thing to remember about making sours is that it is all about the complexity.
The idea is to make a circle to define what the levels of complexity are. For the past two years Palisade Peach Surette has been a staff favorite so that base was used as "the shoulders to stand on". High altitude growing regions in Colorado make for peaches so delightful that there are festivals to celebrate them.
This version started as a beer already in the foeder sitting on cherries..3,500 lbs of cherries. The question was asked what would happen if 4000 lbs. of peaches were added to a beer already aging on cherries. The result was Surette Reserva Palisade Peach. The golden color was transformed by pulp skin of the cherry. It has a much dark hue than any of their other peach beers.
Crooked Stave Origins Burgundy Sour
The beer itself is loosely related to a Flemish Red but much darker. The history of Rodenbach's Flemish Red points to the brewing practices of the 1800s in Northern England. Origins begins as northern brown, the beer continues to age in foeders then wine barrels before its blended back together and bottle conditioned with champagne yeast. Although the beer has those Flemish Red ties in its heritage,  Chad thought,  "We still can't call it a Flemish Red because I'm not Flemish, I'm from Colorado." Michael Jackson once referred to the Flemish Red as 'The Burgundy of Belgium' So Chad decided to name the beer Burgundy Sour.
The Origins series includes a Golden, a Burgundy and a Dark. The names are boring but the final blends are anything but. The Burgundy Sour is tart and tannic with a profile of ripe berry, red fruit and leather tobacco. These characteristics are accentuated in wine barrels that are what makes origins what it is – an American version of a Flemish Red high in lactic acid that pays homage to traditions of sour ales.
Butcher's Bistro Bresaola
A red wine rubbed tenderloin sirloin paired with Burgundy Sour. The beef charcuterie was accompanied by an oaky sesame seed bread topped with olive caper tapenade and horseradish mayo.
–Nkosi
-Be sure to check out Part I and Part III of our Great American Beer Festival 2017 coverage
**denotes photo courtesy of Brewers Association
–Nkosi