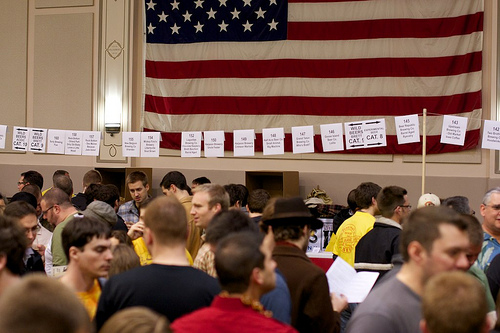 The Chicago area is not want for beer festivals; in fact, there were two epic events that occurred on Saturday, November 12, 2011. Three, if you count both sessions of Illinois Craft Brewers Guild's Ninth Annual Festival of Wood and Barrel Aged Beer (FOBAB). And we most certainly did. Not only did your favorite Chicago Beer Geeks hit up the Three Floyds 15th Anniversary Party (check out the write-up here) AND FOBAB, but we even went to both the afternoon and evening sessions of the latter. Below is another installment of He Said… She Said… where CBG Nik provides his take of the afternoon session, and CBG Jess recounts the evening session.
He Said (Nik)… The Afternoon Session
Lets get right to it, in my opinion FOBAB is the best annual party for craft beer lovers in Chicago. 172 Beers, 62 Breweries from 22 States, from a rarity perspective it is simply the standard by which all other local festivals are measured. This year's edition was a reunion of sorts, seemingly everyone in the craft beer community I have met over the last 12 months was in attendance on a perfect Fall afternoon. My pal Christian and I have been to several beer events together, we met 30 mins prior to general admission in anticipation to get started on one of the best beer days in recent memory.
Out the gate we went for the Black Power Oatmeal Stout (Revolution Brewing) and the Collaborative Evil 2010 Smoked Porter ( Flossmoor Station). Inspired by the awesome local podcast Beer Download, we decided to compare and contrast 2 beers at a time during the fest. This strategy went completely out the window after one round when we spotted, then both got samples of, the Bourbon County Stout with Ghost Peppers from G.I. This beer was bad ass, and quite honestly my personal favorite on the day. This was my 2nd year at FOBAB, for much of the day we spent time enjoying sips, laughs and reflecting on what has really been a landmark year in our city. I thought the Zeppelin Bend Barrel Aged Night Tripper from New Holland was interesting. This Michigan brewery makes their own spirits as well as beer. This imperial stout was aged for 6 months in rum barrels, then aged for 5 extra months in Zeppelin Bend Whiskey barrels. The Makin Maple Bacon caught me off guard with how awesome it was. Most times its a futile attempt that ends up being flavored pork water when incorporating bacon into beer. But kudos to Rock Bottom for really nailing that balance between maple, whiskey and bacon goodness with just the right amount of smoke…a very good beer.
Other highlights for me included the 2010 Heartwood Symposium Ale by the Illinois Craft Brewers Guild. A collaboration of 15 breweries to commemorate the Craft Brewers Conference last year. Both Goose Island's King Henry and Sticky Monkey from Firestone Walker satisfied my craving for an epic English Barleywine. T-Bone Express from Sun King was exceptional as well with big coffee infused notes in their Scotch Ale. Sour Ales like Two Brothers Hoodwinked were a refreshing departure from the big stouts on the day. Heard nothing but awesome things about Port Brewing's Vertias 010 Blended Sour Ale. It was aged in French oak barrels with peaches! It was nice to see Upland Brewery from Bloomington, IN take runner up for Best-In-Show. In a room filled with notable breweries they held their own with Gilgamesh – a Flanders Red Ale. Also shout to John Laffler and the crew at Goose Island who brought the pain, events like this showcase what they do best. G.I. took home 5 medals from the 10 + beers they entered.
–Nik
She Said(Jess)… The Evening Session
I was a FOBAB virgin until this past Saturday when the hubby and I attended the evening session. It was slightly torturous reading the many tweets from my friends and CBG Nik who were at the afternoon session, especially since hubby thought Saturday should be a cleaning day. Drinking barrel-aged beers definitely sounded better than sweeping and scrubbing. At least the cleaning session made the day go by fairly quickly and before I knew it, it was finally time to head out to the Chicago Journeymen Plumbers Hall in the West Loop to get my fill of barrel-aged goodness.
This event was extremely well organized. Even before the event's start time, while we were anxiously awaiting in line to get in, Revolution Brewing's Josh Deth, and Pete and Mike from Wild Onion Brewery came around, checked IDs, and handed out bracelets so that once the doors were open, we could just go in rather than waste valuable drinking time. Once you enter the Stephen M. Bailey Auditorium, you notice that all of the beer booths are located around the perimeter and the middle was left open for mingling, drinking, and discussing. I felt comfortable the entire time and it never felt over-crowded. The longest I waited in line was maybe three minutes for Goose Island's Honey B, the beer that won best-in-show during the afternoon awards ceremony.
I also liked that the beers were grouped by category rather than brewery. This allowed you to start with the lighter beers and move on to the Imperial Stouts later on, or sample many breweries' interpretations of a certain style to compare. The program, however, had the beers listed by both style and brewery, which was a nice touch. Really, organization of this event was outstanding and as a patron, I really appreciated that.
Another cool aspect of this event was the opportunity to hob-knob with brewers and local beer industry greats. Towards the end of the evening, when we were both fortified with beer courage, the hubby and I approached Revolution Brewing's Jim Cibak and Michelle and ended up chatting with them for about a half hour. Definitely one of the highlights of the evening. Another highlight was Illinois Craft Brewers Guild President and Haymarket's Director of Fermentation Pete Crowley making spontaneous announcements throughout the evening. At one point he even broke out in song and lead the crowd in "Ein Prosit." It was great to see the brewers having such a great time, even though they were technically "working."
So, what beers stood out for me? The first beer I sampled once I entered the room was Sam Adams's Utopias, an insanely strong beer in the neighborhood of 25% ABV. I have wanted to try this beer for some time but I'm not willing to shell out for the $200 price tag. Instead of the typical two-ounce pour, you only got a one-ounce pour of this beer due to the strength and the limited quantity available at this event. Upon first sip, I was glad I was only given a small amount. Not because it wasn't good; it was. But the majority of beers at FOBAB are pretty strong and I wanted to be able to enjoy all of the offerings. Utopias had no carbonation and tasted like a really sweet whiskey or scotch rather than a beer.
I next got a taste of Goose Island Bourbon County Brand Bramble Rye, an Imperial Stout aged in Heaven Hill rye whiskey barrels with raspberries and blackberries. This beer was incredibly smooth with flavors of raspberries and chocolate. I've heard rumors that the label was recently approved so hopefully we will be seeing this in bottles soon. I will definitely be waiting in line to purchase this one!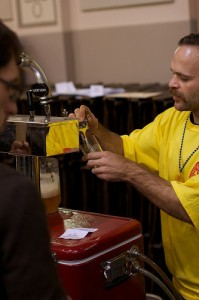 As previously mentioned, Goose Island's Honey B won best-in-show so this was definitely on my "must taste" list. This beer was aptly named in that it was very sweet, like drinking pure honey. It was good, although it was a little too sweet for my taste. Another must have was also from Goose Island: Ghost Pepper Bourbon County Brand Stout. During the afternoon session, this beer had to be pulled in order to save some for the evening session. I am typically not a huge fan of chili beers but due to the demand, I wanted to give this one a try. It packed just the right amount of spiciness and it complimented the sweet Imperial Stout nicely.
The Sun King Pappy Van Muckle was a strong Scotch Ale aged in Pappy Van Winkle barrels. This beer was a little milder than some of the behemoths present at this event and had a fantastic aroma and flavor thanks to the barrel-aging. Understandably, I neglected to take detailed notes as the night wore on, but some other notable beers I sampled were Three Floyds Bourbon Moloko; Firestone Walker Sticky Monkey, Black Xantus and Helldorado; Revolution Brewing Barrel Aged Institutionalized Barleywine; Finch's Beer Co. Dirtier Bird; Rock Bottom Chicago Sled Dog Imperial Red; and Metropolitan (with City Provisions) Carburetor Doppel Rye.
This was a fantastic event and I had a great time hanging out with friends and drinking rare beers. And there were a few advantages to going to the evening session. First of all, the great crew at Hop Cast updated their Twitter feed during the afternoon session with the award-winning brews. This allowed me to formulate a list of the beers to get first as these may be the first to run out. Also, while at the afternoon session some beers were pulled to allow the second session to get a taste, at the evening session, the pours started getting bigger towards the end of the night. I think a friend of mine that I ran into summed up this event the best by saying that this event is better than Great Taste of the Midwest since FOBAB is all of the great one-offs and none of the regular, year-round offerings. I agree. And it is a lot more manageable than a huge fest. I will definitely be back next year.