Beer Camp was so good I forgot I was at Navy Pier. I think it blew folks mind a bit seeing Sierra Nevada Founder, Ken Grossman behind the jockey box pouring one of his IPAs. They were rumored to be about 3500 tickets sold for the Sunday afternoon party. Chicago is stop 4 of 7 on what is the largest craft beer event ever. Literally every craft brewer from the the Great Lakes region was invited to the Midwest Edition.
With an event on this scale your agenda of what beers to try goes out the window. Cheers to our friends over at Timothy Otoole's. The official afterparty was at their Streeterville location. General Manager, Tony Smith was part of a Chicago Bars crew that traveled to Petaluma,CA to create Fusion 23 with Lagunitas. Brixie's Bar and Grill, George Street Pub and Nevins Brewing Co. were also included on the project. Fusion 23 was exactly what I needed. Sometimes you're not interested in navigating the ever-changing brewery landscape. Sometimes enjoying an ale from a familiar brewer on the lakefront is all you want. Fusion 23 is a Cream Ale, a simple yet alluring style I almost never see. A champagne golden hue, moderately hoppy with hints of fresh apricot, orange and rose hips in the aroma.
You'll break a sweat walking past all the crazy tourists to get to The Grand Ballroom at Navy Pier..but after that the space is unusually nice. The ballroom has an 80ft domed ceiling and access to a covered balcony. The scene was an open air indoor/ outdoor concert with gorgeous views of Lake Michigan as the backdrop.
Accompanying their Beer Camp Across America Road Trip is the Sierra Nevada 12 pack that includes 12 different collaborations. Of these beers the one we remember was the Double Latte with Ninkasi. It's a Foreign Stout with milk sugar and 40lbs of coffee from the Northeast.
Cigar City was in attendance, Florida Cracker and Jai Alai were the brews they tapped. Highlights for us included those cats from Cigar City just being there. A small part of Beer Camp's appeal was that Russian River, New Glarus and a Cigar City were all scheduled to make an appearance. Cheers to the Tampa Bay crew for the chance to rock with them on Sunday afternoon. Upland Brewery created quite the frenzy by pouring samples from their highly coveted sour program. Their IPA was on draft all day and every 30 mins they shared a bottle of either Lightsynth or Darksynth. The latter is blend of their Dantalion and Raspberry Lambic ales with New Belgium's Oscar (the base beer for La Folie).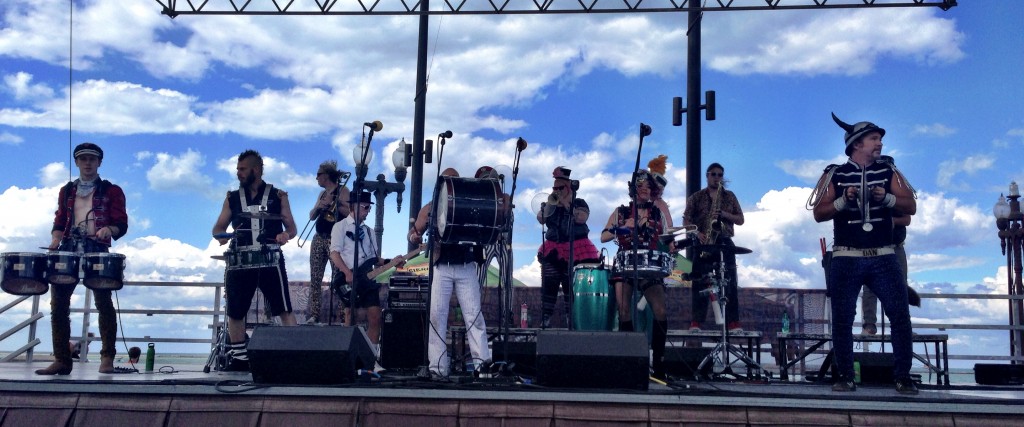 Sierra Nevada is the 2nd largest craft brewery in the US. To celebrate the launch of their 2nd brewery they're throwing a traveling party from coast-to-coast!  The combination of the venue, the band and the Beer Camp collaborations made for a grand spectacle. This was easily the most mind-blowing time we've ever had at Navy Pier. The ballroom sound system played the concert happening on the patio all day long. An excellent alternative if you didn't want to imbibe outdoors.
–Nkosi