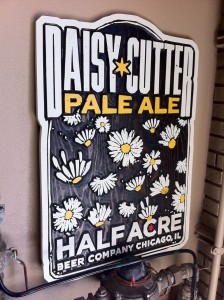 With a tour that is sold out until mid 2012 you would think it next to impossible to get in, well don't think that way, and you should schedule a Saturday to head to Half Acre and go on the tour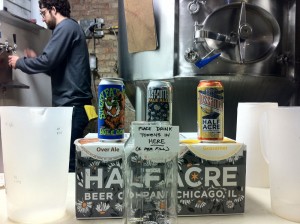 We were lucky enough to have a friend who ordered tickets for the October 1st tour last December, so we were assured to get in; however, they have now gone to a first come first serve model for the tour. Many of the people who ordered tickets tend not to show up since it was almost a year ago they ordered, so a good group of people do make it in.
For $10 you get a Half Acre pint glass and 3 glasses of beer along with the tour. This is a great deal for the beers alone. Our tour was led by head brewer Matt Gallagher who happened to be drinking the recently released in bottles, Three Floyds Zombie Dust while giving the tour. For our drinks that were included in the tour we had a choice from three. 2 of them being year round regulars, Daisy Cutter, and Gossamer. The third was a recent release of the Sticky Fat American Dark Ale, so this is what I began with. This is a great dark ale made with harvest or fresh hops. A great beer that if you can get your hands on you should.
Matt began the tour with welcoming us to Half Acre and giving us a brief history of the brewery and how they got all the equipment from Ska Brewing and shipped it all to Chicago to reassemble and get started. Since then they have added more to increase supply. He then proceeded to go through the brewing process. As a home brewer myself I thought that he did an extremely good job of presenting every step of the brewing process in a very digestible way for the non-brewer. If anyone is interested in knowing how the brewing process works this is the tour for you. We proceeded upstairs to the storage areas for cans and grain. There were also a few barrels up there, so not sure if we will be seeing some barrel aged beers from them in the near future.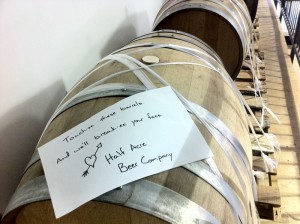 Some grains and hops were passed around the crowd so everyone got a chance to see and smell what goes into the great beer they make. Then going over the fermentation process and ending with the canning line. The tour felt more like a really fun gathering and learning about beer and how it's made, which was a real enjoyable time. We then headed into the small storefront where you can grab merchandise and a growler of your favorite beer on tap.
So since they are now using the first come first serve method for tours, I do recommend if your interested get there 30-45 minutes before the tour begins and you should have a good chance at getting in. Even if you don't make it on the tour you can grab a growler of your favorite Half Acre brew before you have to head home.
–Dan
For more scenes from our tour of the Half Acre brewery be sure to visit our facebook page  (dont forget to hit the like button)