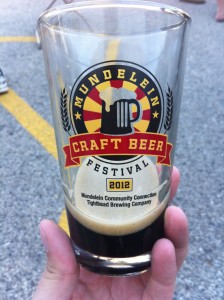 On a hot spring day with the sun beating down upon us, we ventured out to the far north suburbs to Tighthead Brewery in Mundelein for the Mundelein Craft Beer Festival. While we didn't see a lot of publicity or promotion for this event it did draw a good crowd for being in a relatively unknown suburb. We heard from some people that as of the night before 500 tickets were sold online, and they did have plenty of people purchasing at the gates as well.
As you entered the fest, which took place in the Tighthead Brewery's parking lot) you immediately saw the serving stations under tents, a group of tables for relaxing and a band setting up to supply music to the crowd throughout the day. It was over 90 degrees and clear skies, so the tents came into play as a refuge away from the beating sun when needed. Our only critique of the fest would be more tents, it would have been nice if the tabled area was under tents as well to keep out of the sun.
There were many local breweries in attendance such as: Revolution, Haymarket, Half Acre, Five Rabbit, and Goose Island. Just to name a few. The festival appeared to have more of a local focus, which was great to see many Chicago Breweries along with Lake County Brewies like Tighthead, Lake Bluff Brewery, Mickey Finns, and even a Nano Brewery like Small Town Brewery from Wauconda.
Many of the breweries had their standards which for the mainly suburban crowd was a great way to introduce them to such great beers as Haymarket's Mathias and Revolution's Anti-Hero IPA. We were pleasantly surprised to see Goose Island serving Big John as well. Anyone who made it up from the city was able to have some great brews by the host brewery Tighthead also. They have an incredible IPA called Irie and also had Boxcar Porter that was a hit of the day as well. Tighthead is a great brewery making some incredible beers that everyone should check out if you can make it out, and we look forward as they continue to expand distribution, hopefully into the city of Chicago very soon.
I wouldn't be doing the festival justice if I didn't mention what I thought was the hit of the day. While not a beer like we are all used to, the one thing I kept hearing everyone mention was the Root-beer by Small Town Brewery. This had a great and refreshing taste that we would have no problem drinking all day long. Well maybe one problem, it was 10% ABV. I would compare the flavor to an IBC Root-beer with no alcohol taste, so very dangerous if you don't realize how quickly your drinking it. They did mention they do a 20% ABV version also!
We are looking forward to next years festival and seeing it grow. If you didn't make this one, mark your calendars when you see next years and get out to the burbs for some great beer.